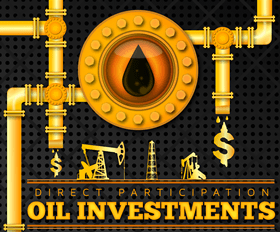 Direct Participation Oil Investments
Investing in oil has always been a good alternative, but it can be difficult for regular investors to realize the dramatic profits seen by the companies that actually produce the hydrocarbons. The solution for many people has been to look past traditional investments and instead go straight to the source for direct participation oil investments.
Making the investment
Direct oil investments are not a simple matter like opening up a savings account or even putting money into stocks, and many of these programs are restricted exclusively to accredited investors. In order to qualify, a person must have a net worth of $1 million (excluding primary residence), or earn at least $200,000 on their own for the previous two years, or $300,000 combined with their spouse.
Anyone who falls short of those thresholds but still wants to stake a claim in oil, however, has to be able to show some experience with investing and an ability to realistically evaluate the risks of their investment.
There are three sources for direct participation programs, including those from brokers or dealers, private offerings and oil & gas companies.  All of these groups should offer a Private Placement Memorandum that will outline the nature of the investment, including profit breakdowns, tax implications and overall risks.
Added incentives
The obvious draw for oil is that these types of investments have the potential to tap into a highly profitable market. The big concern at this level is that any given well could turn up dry. To counterbalance these worries the federal government has offered extensive tax deductions for the costs of exploration.
All intangible drilling costs, unrecoverable expenses like labor, and all tangible drilling costs, such as physical equipment, are 100 percent deductible. On top of this, 15 percent of all revenue from the oil investment comes entirely tax free, and the long-term capital gains from the investment are only taxed at a rate of 15 percent.
Given that most people who will actually be participating in direct oil investment will fall within the top U.S. tax rate of 35 percent, a $100,000 investment could end up costing as little as $65,000 after taxes.
Drilling and Production
Drilling for oil is a long and complex process, but it all starts with actually finding a place to drill. Today geologists use a number of tools, including gravity meters, magnetometers, chemical "sniffers," seismographs and prior drilling information to project where deposits lie under the surface. Seismology is probably the most common tool, with explosives and ground-shaking "thumper" trucks used to create the shock waves necessary to identify variations under the surface.

Copy & Paste The Code Below to Share This Infographic
<a href="http://www.usoilproperties.com/wp-content/uploads/2012/08/Oil-Investments-Infographic.png"><img src="http://www.usoilproperties.com/wp-content/uploads/2012/08/Oil-Investments-Infographic.png" alt="Oil Investments Infographic" width="972" height="7938" border="0" /></a>
<small><a href="http://www.usoilproperties.com/direct-participation-oil-investments-infographic">Direct Participation Oil Investments Infographic</a>, brought to you by <a href="http://www.usoilproperties.com/">US Oil Properties</a>.</small>